Wiggle Room – the Chinese army and finding the time for a creative life
Wiggle Room – the Chinese army and finding the time for a creative life
I've heard it said that if you want something done, ask the busiest person you know and they will accomplish it. Somehow these people have the ability to stretch a little more out of a minute or hour to get the conference planned, or the new report written. These people amaze me. Actually, I think they intimidate the heck out of me, because I am constantly finding myself scrambling trying to get things done and regretting my inability to say 'no' to new work. Of course, too much work impacts my ability to find time for my writing.
How do these people do it? Do they really have the magical ability to expand time?
Of course the answer is 'no' (at least I don't think too many of us have Hermoine's magic watch), but these people have tricks that help them get things done. I figure I must have a few as well as I am frequently being asked where I find the time to write, or travel , or blog.
The first thing one must do is decide if writing or travel is something you really want to do. For me, there were years of frustration about finding the time to write and the time to market my writing until a friend and mentor made the suggestion that I treat myself as a one of my clients. You see, I work for myself as a consultant and I schedule my time based on the work a client has asked me to do. The suggestion was helpful to me because it did two things:
1. It got me to schedule time;
2. It legitimized my writing and got me to take it as seriously as I take my paying work.
The first of these points speaks to organization, a key point if you are trying to fit writing into your life. Along with organizing your life to allow writing time, you must obtain the buy-in from significant others like spouses and friends – otherwise expect writing time to be a constant source of relationship friction.
The second of these points is probably the most important. Taking my writing seriously gave me permission to make it a priority to write. I can't tell you how many people I know who say they want to write a book or are working on a book and yet they never sit down to write. The first job of a writer is to write – not to talk about it. Not even to blog about it. But to write. Bum in chair folks, and no matter what else is going on in my life, I always find time to be there.
You have to decide the writing/travel/whatever is a priority because it will hurt you more not to do the activity, than to do it.
I've also had people tell me that part of their trouble is the challenge of moving from creative to mundane (e.g. work) projects and back again. This is an issue of multitasking. So how do people manage this shift from project to project?
I know people who work on two or three novel projects at the same time. I admire them greatly, but I don't think I can do it. These folk can literally be writing one manuscript in the morning and another at night. For some it's a matter of compartmentalizing their writing, so writing a certain type of book is associated with a certain time of day. I suppose I do something similar when I get up early in the morning and write creatively, and then turn to my work computer at eight a.m.
Having separate computers can help, as well. Having one computer for work and one that is strictly for creative endeavors allows your brain to associate a certain place with a certain type of thinking. Keeping your creative space separate from the internet has also helped some writers, and definitely removing all games from the creative computer. For me, I have to keep my photography on a separate computer because that is a time sink I frequently get stuck in, because it also feeds my creativity.
Other issues fledgling writers run into include knowing what to write and just getting started. I've talked previously about inspiration, but sometimes it's just the fear of getting started. There are wonderful books out there that can help. I fondly recall Natalie Goldberg's Wildmind, and the wonderful book The Artist's Way by Julia Cameron. Both helped me explore my voice and passions and taught me that my voice was valid. Books can teach you how to deal with the anxiety of starting through cleansing breaths, or meditation . Each writer has to find their own way to deal with the critics in their heads.
I'm reminded of a mantra Kris Rusch and Dean Smith put up at every workshop: DARE TO BE BAD. What this means is that all creativity (and travel, and just plain living, for that matter) is about taking a risk. We have to throw ourselves out there and only by taking those chances will something wonderful arise.
I'm reminded of one of my adventures: In China my travel companion and I decided to visit a remote area called Qinghai Lake. This is a wind-blown steppe in the mountains that has a huge lake that supports the massive migrations of waterfowl from Siberia to South Asia. So we hopped a local bus and travelled up into the mountains and were dumped off in a small group of buildings that were reminiscent of an old west town except there were no horses around, only yaks and monks.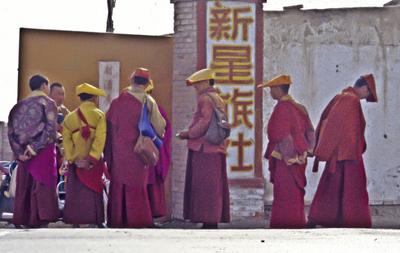 So we ventured out to the lake on foot (not an easy hike, because the lake was distant and the wind was high and scoured us constantly with dust). We were met by Tibetan women bringing their children to see Westerners. (I scared the children because I have blue eyes and apparently that's not a good thing.) We saw massive stone cairns, strings of prayer flags, and wonderful kids who showed off by riding yaks to guard their herds and, in the distance, blue Qinghai Lake. I ended up going back to our room alone and was just washing the dust out of my pores when someone pounded on the door.
Soldiers.
They barged in on me as I stood there dripping. I was shocked, to say the least, and my first reaction was to shoo them right out of the room again and bar the door. It worked. I stood there, heart pounding. Through the door I heard them whispering and laughing. And they went away.
Which proved to me, that if I could deal with the Chinese Army, I could deal with most anything – including anything that dares get in the way of my writing.