A New Romantic Novel!
A New Romantic Novel!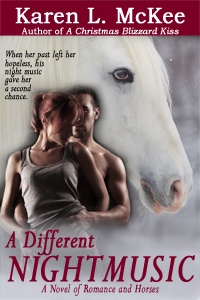 I'm thrilled to announce the latest Karen L. McKee equestrian-based romance novel, A Different Nightmusic.
For Oklahoma girl Trisha 'Monty' Montgomery, going to Lake Farm to escape her past and to breed a top jumping horse might be her one chance at a new life. But the shame of poverty and a past with men she isn't proud of taints her attraction to the taciturn Jack Lake, the mysterious owner of Lake Farm.
When a flaming white horse gallops across her path and causes her to crash her truck, Monty ends up stranded at Lake Farm. Trapped as much by her pride as by lack of money, she soon finds herself entangled in mysterious goings-on: Is the flaming horse real? What is making the stable's stallion go mad in the middle of the night?
And most of all, is Jack her enemy or her fate—the man who will send her stumbling back to a life of shame, or the man who will help her move on to a new life?
Available for sale on Amazon, Smashwords and Kobo.