Covers, Cover copy and Categories
Covers, Cover copy and Categories
Hi everyone, I've come to the conclusion that a set of covers may not be working properly for a series of novels of mine. The series is set in a beach resort town in the summer. It involves a romance. Sounds like a contemporary romance, right? The challenge is that the story also has paranormal elements and a building suspense. The level of darkness and suspense builds throughout the series, though I've kept the summer feel of the place. So I'm going to show you two covers for the first book in the series as well as the two blurbs and I'd really appreciate feedback on which better conveys the idea of the story I've described above.
Current Cover and Blurb: 
When Kylee Jensen returns from Africa, she leaves behind her fiancé and brings back a badly broken heart. To heal, she seeks out her best friend in the idyllic lakeside town of Peachland, where she meets bad boy vintner Brett Main. Meeting Kylee might just be the incentive Brett needs to change his ways, but Kylee's barely mended heart can't take a man like Brett. Then a mysterious death disturbs the peace that Kylee desperately needs, and only Brett can keep her from being next on the killer's hit list. A killer on the prowl, a peculiar bracelet that won't come off, and a man she can't handle… Africa is starting to look a lot safer than Peachland.
Karen L. Abrahamson creates a cast of wonderful characters in this, the first book of the Bracelet contemporary romance series. The book takes readers to the sun-soaked Okanagan Valley where orchards and vineyards cover the hills and sometimes magic raises its head, like the ancient Okanagan Lake monster.
Possible New Cover and Blurb: (note that the cover is still in draft form so it still has shutter stock on the images)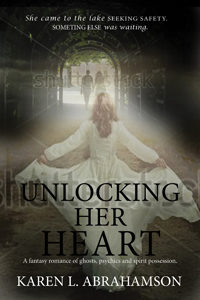 In this supernatural romance, Kylee Jensen had worked hard to turn a string of bad luck into a life that every woman dreams of. She'd met the love of her life, they'd both quit their jobs, and she and her fiancee were on a romantic round-the-world tour together…until things fell apart.
Returning to North America with nothing but the realization that she's a disaster at relationships, Kylee seeks the help of her childhood best friend who co-owns a new-age jewelry store with three other women in the small beach side town of Peachland. Drawn into the shelter of the group of friends Kylee finds herself the focus of their efforts to help her heal. All seems well…until Kylee tries on a mysterious magical bracelet linked to a recent murder.
Brett Main is the typical beach-bum, bad boy—at least he used to be. With his blonde good looks, and his half ownership of Elkhart Winery, a long line of women litter his past. But then he meets Kylee. The petite blonde may be everything Brett ever wanted, even if she has vowed not to become involved with anyone.
When supernatural forces threaten Kylee, Brett realizes that he's in danger of losing her. Kylee and Brett will have to come together with their circle of friends to defeat a ghostly, entity that can turn any man into a killer.
Fans of steamy sex scenes, suspense and the paranormal will enjoy this story of evil infiltrating a summer beach town.