A Squalor of Chickens
A Squalor of Chickens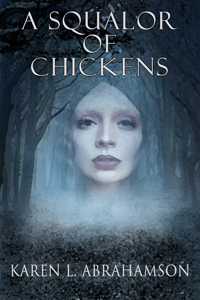 A fae warrior, a twisted changeling and a choice for all eternity.
Banished to earth by the unSeelie Queen, changeling, Rose, must chose between life or betrayal of all she believes in.
Order Now!
About the Book
Once a warrior of the Seelie Court, Rose now exists as a changeling in a twisted human body devoid of magic. Only on midwinter day can she taste magic again, in the form of a single spell, one that allows her to reconnect the ice-cold Earth with the sun's life-giving warmth. Her one power is the single most important one–ushering in Spring.
When offered the choice of a life, or betrayal, will she abandon her duty?
Disclosure of Material Connection: Some of the links in the page above are "affiliate links." This means if you click on the link and purchase the item, I will receive an affiliate commission. I am disclosing this in accordance with the Federal Trade Commission's
16 CFR, Part 255
: "Guides Concerning the Use of Endorsements and Testimonials in Advertising."