Two new releases came out in December. One is the short fantasy story of the first case of Vallon Drake, the heroine of Afterburn and the American Geological Survey series. The story is called All She Can Be.
The second new release is the first in a contemporary romance series with  touches of magic and suspense. The novel, Unlocking Her Heart leads off a series of books in what will be the Unlocking Saga.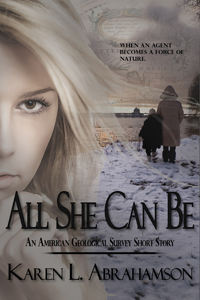 All She Can Be
Karen L. Abrahamson
When someone moves the Canada/US border along the flooding Red River, the American Geological Survey assigns freshman agent Vallon Drake to find the culprit and repair the damage. If she doesn't it could destroy the peace between the two nations.
But solving a crime in the shadow world of the AGS is never straightforward, especially when assigning blame can have serious career repercussions.
Karen L. Abrahamson once again transports us to the change-ridden world of the AGS, but this time she takes us back in time to Vallon Drake's first dirty little case.
Available on:
Unlocking Her Heart (The Unlocking Series, Book 1)
Karen L. Abrahamson writing as Karen L. McKee
When Kylee Jensen left Africa she left behind her fiancée and brought with her a badly broken heart. To heal, she seeks out her best friend in the idyllic lakeside town of Peachland where she meets bad boy vintner Brett Main. Kylee knows her barely mended heart can't take a man like Brett, but meeting Kylee might just be the incentive Brett needs to change his ways. When a mysterious death disturbs the peace that Kylee sought, and she finds a puzzling bracelet that refused to be removed from her wrist, only Brett's help can keep Kylee from being next on the killer's hit list.
Karen L. Abrahamson creates a cast of wonderful characters in this, the first book of the Bracelet contemporary romance series. The book will take readers to the sun-soaked Okanagan Valley where orchards and vineyards cover the hills and sometimes magic raises its head, like the ancient Okanagan lake monster.
Available at: