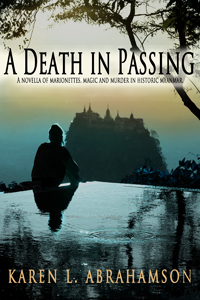 I traveled to Myanmar (Burma) in 1997 while I was living and working in Thailand. At the time, the country was still mostly closed to foreigners. Only select parts of the country were open. During my month 'in-country' (the maximum the visa allowed) I conducted research on the Burmese puppet troupes and stayed at small guesthouses for a better chance of meeting local people. Unfailingly, everyone I met was giving of their time, knowledge and their kindness.
That began my love affair with Burma. (You can read more about my travels here.)
Since then I've written a number of novels set in Burma, including the modern, paranormal romance Shades of Moonlight.
In April 2017 Guardbridge Books published Death By Effigy, the first in my historical Aung and Yamin Fantasy Mystery series, in which an aging puppet singer and a mischievous puppet, must solve the murder of the king of the puppets or risk the destruction of the entire troupe.
I'm pleased to announce that the second in the series, A Death In Passing, has just been released, continuing the trials and tribulations of Aung, the puppet singer, with his troublesome assistant, Yamin, as they try to solve the murder of Burma's most powerful spirit dancer.
In all of these books I've attempted to be true to the country's culture and to accurately present the wonderful nature-magic systems (with a few embellishments). Burma seems to be in my blood and I envision more novels set in this wonderful and varied country. Whether historical or modern novels, I hope to capture the country's magic for readers.
If you've traveled in Burma, I'd love to hear how I did.