Shadow Play: New Romance from Karen L. McKee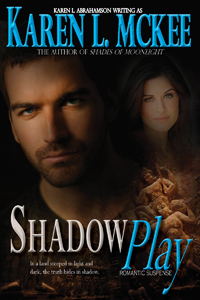 Shadow Play  
Karen L. McKee
When star investigative reporter Kaitlin 'Seattle' Blackwood arrives in Cambodia to look for her missing father, she drops right into the middle of the mystery her father left behind. To make matters worse, two strangers try to abduct her and the one man she had hoped never to see again rescues her. B.J. McCallum¾ ex-lover, ex-man of her dreams, ex-photojournalist¾ almost ruined her career when his exploded. He comes complete with his own heap of troubles: a murdered monk, stolen rubies and missing orphans, all might be linked to her father's disappearance. Can Kaitlin and B.J. quit fighting long enough to solve the case and survive in a country where people have a habit of disappearing?
Once again, Karen L. McKee hits just the right note of humor as she leads readers on a romantic adventure, this time through the exotic, flooded landscapes of Cambodia during monsoon season. Shadow Play is a cross between Romancing the Stone and Raiders of the Lost Ark, a fantastic romp with wonderful characters and an authentic setting.
Available as an e-book at: 
And coming February 2014 in print.