Electronic Market Options for the New Writer/Publisher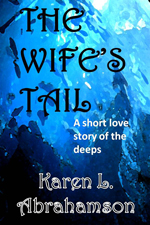 I recently self-published a short story called The Wife's Tail. Like with a novel, the first decision I had to make once the story was completed was what to do with the manuscript to get it out into the world. While this isn't marketing to readers, it will determine some of the marketing steps you take afterwards.
In the old days (like a two years ago), the first choice (for me) would have always to been to send the manuscript to traditional New York publishing houses appropriate for a short Fantasy story. Now, however, the world has changed—not the 2012 Mayan calendar change, but just about. Over the last twelve months the world seems to have shifted and more long-time published authors are saying that self publishing may be the way to go.
Why?
Primarily for financial reasons and the personal control a self-publishing author retains. For example, for novels a writer can earn a higher percentage royalty for self publishing, retain all copyright, and can maintain the book (or short story) in print far longer than a manuscript published through New York. (For more information on the e-book revolution see Here and Here, and for information on the current massive changes in publishing see Here.) Self publishing allows authors to get books into print without going through the convoluted games of agents and publishers. So if you have a good product, and if you are prepared to work with your manuscript beyond packaging it up and mailing it, self publishing may be the option for you.
Having made the decision to self-publish there are basically two options to consider:
1. Electronic (e-book) format, and
2. Print of demand (POD).
A third option of audio books is also out there, but for this post I am going to focus on electronic publication options.
With the overwhelming acceptance of e-readers as an alternative to hardcopy books, we are truly entering the heyday of self-publishing. Amazon Kindle, the Nook, the i-Pad, and a profusion of mobile reading platforms have all contributed to this revolution, and all provide the author with avenues for self-publishing and marketing. A March 2011 article in FutureBook quoted Bertelsmann's executives as saying that e-book sales were up 250% and that, for some US titles published by their New York branch, as much as 50% of the first two week sales are in e-book format. Other on-line resources state that E-book readership is expected to top 30 million globally by 2013. That's a lot of potential readers.
For the self publisher to take advantage of this phenomena, there are self-publishing platforms available, most notably:
1. Amazon KDP
2. Pubit (Barnes and Noble), and
3. Smashwords.
Amazon KDP is the Amazon Kindle Direct Publishing, and allows you to easily upload a formatted manuscript to be sold to Kindle users on Amazon.com. Preparing a manuscript for KDP publishing is relatively painless (less than an hour), but involves removing typical manuscript formatting like headers and page numbers and any tabs, and changing underlined words to italics, etc. so your manuscript is formatted for electronic publication. Table of contents are also added so that readers have a chance to return to places in the manuscript. Amazon provides instructions on formatting on their website. Along with the manuscript formatting, you will also need a cover for the book or story. I'll talk more about covers in a later post.
The fortunate thing about Kindle is that this publishing avenue is available to writers all over the world. As a writer from outside the US, it allows me to get paid for novel sales into the US market as long as I have sorted out the Income Tax issues with US Internal Revenue Service. Canadian and other english readers can access the books through their Kindle and now, with the advent of Kindle UK and Kindle DE, readers in the United Kingdom and Germany can also access these books.
Amazon Kindle Direct Publishing pays the writer either 35% or 70% royalties (depending on the book price) which is a far cry above the standard 25% offered by New York publishing for e-rights.
Pubit is the in-house program for Barnes and Noble and apparently is an excellent publishing option. It pays 65% royalties on Pubit purchases, which again is far better than the traditional publishing option. The one problem with the program is that it is only user friendly for authors having addresses in the United States. Frankly, their website is misleading as, when they first opened, they contacted me to offer publication, but then threw up enough road blocks I haven't used them to this day.
First it was the requirement for a US bank account. Then, after I had obtained the bank account, they required a mailing address in the United States. While it would have been possible for me to accomplish this by renting a mailbox, from a business perspective, the potential revenue wasn't worth the outlay and the only advantage to me would have been slightly faster payment. A last negative comment on Pubit is that they required more personal information than any of the other e-publishing sites. As a result, I have reached Pubit readers through Smashwords.
Smashwords offers another entry point for e-books, but unlike Kindle and Pubit, it is not limited to one digital platform. Smashwords-published books can be read on a variety of devices including, Kindle, Sony Reader, Nook, Kobo, and IPad, and are also available as HTML, RTF and PDF. Smashwords pays between 38% and 85% royalty depending upon the book price, whether Smashwords or an affiliate (Kobo, Sony etc.) sold the book, and what currency the book was purchased in (and taxes in the Purchaser's country). Again, this rate is significantly higher than New York publishing's.
While initially self-publishing on Smashwords seemed daunting because of the fairly rigorous formatting requirements, Smashwords provides a complete instruction manual that, when followed, usually leads to a successful upload. Instructions include such details as requirements for front-matter (copyright statements) and instructions about adding in table of contents. Having completed preparation of a manuscript for one digital platform (whether you do Amazon Kindle or Smashwords first), it really takes very little time to prepare the manuscript for the other platform.
I'm sure you're asking, then why bother with Kindle and Pubit at all, if Smashwords publication will reach those platforms, too. The answer is in the royalty rates. Selling on Kindle or Pubit directly will usually reap you the 65% or 70% for a novel. Selling via a Smashwords affiliate will reap you less, depending on where the novel is purchased. So if you have decided to sell your e-book on Smashwords and Kindle/Pubit, it is important for the self-published writer to TURN OFF the Smashwords sales to those two channels.
To do this, the writer/self-publisher should go to their Smashwords 'Dashboard' and click on Distribution Channel Manager in the left hand column. Then you should scroll down to the specific novel/story title and check 'opt out' for the Kindle or Pubit channel. Again, this should only be done for books you have already published on the other platform and is done to avoid having two listings on Amazon and Pubit that pay you different royalty rates.
And that is all it takes. Be prepared for some frustrations the first time through, but for the next book you'll know what to do and the time commitment will be shorter.
Next post I'll talk about POD, because let's face it: e-books might be nice, but we authors like to hold something physical with a cover.