The Care and Feeding of Birds… and Novels
I put up a new birdfeeder the other day. It's not the feeder oriented toward small birds like rosy and gold finches or chickadees. This one is solid wood, with a solid tray and a wooden roof that I inherited from my parents' house. I decided to throw it up on my back deck as a way to get rid of some bird feed that I had had left at my house.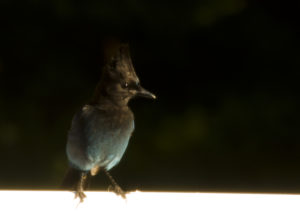 The first day a few little birds fluttered over from my other feeder to try it out. This carried on for a few days, but they clearly preferred my tube feeder with the chopped sunflower seed. I waited anxiously to see whether anyone would like the plain bird seed, peanuts and sunflower seeds in their shells. About three days in suddenly I had a vivid blue visitor—a cocky Stellar Jay. Not long afterwards there was a second—a youngster who kept bugging his mother to feed him even though he was perfectly capable of feeding himself. These two kept the feeder busy, taking turns feeding and teasing my Bengal cats in the process.
Two weeks later the population of Stellar Jays has doubled with four of the forward little fellows coming in to feed. They also take great pleasure in teasing the cats by hopping right up to my sliding screen doors. There are also two or three flickers that come in to feed as well as the usual mix of smaller birds. It's kitty T.V.
The process of building a population of bird neighbors got me thinking about the care and feeding of novels—mainly because this spring and summer life has kept me from being able to write as much as I would like to. It got me thinking about how the kernel of an idea for a novel is a lot like putting out a birdfeeder.
Writing a novel requires the same faith as putting up that bird feeder, but instead of waiting for the birds, as a writer I'm waiting for the visitations of ideas. When I first put fingers to keyboards to start a new novel, it's like hanging out the birdfeeder. There are tempting ideas there, there may even be ideas about the characters you intend to include, but the reality is something else. The core of the idea is there, but finding the other ideas that make a novel a novel is another matter altogether. After all, a bird feeder without birds isn't much of anything at all and a novel without layers of ideas is at most a short story.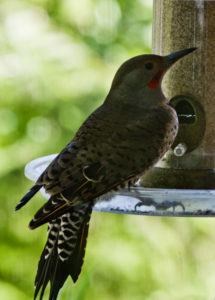 In the best of cases, new ideas come as you write. They really do seem to flutter down of their own accord, attracted by your initial idea—some even strut onstage cockily much like a Stellar Jay. The best of them you never see coming, leading to a veritable Eureka moment. The ideas that surprise the writer are my favorite kind and are usually the situations or reversals of fortunes that please readers the most, too. They are the ideas I strive to find in my stories, but in truth I think the ideas find me.
This year my creative process seems to have been dampened by dealing with too many family issues. It feels like my bird feeder is empty. And yet…
I wrote a short story the other day (good or bad, who knows) and I saw a pileated woodpecker for the first time since I moved into this home 18 months ago. My plan for this challenging time is to gradually get back into writing and to blog about the process.
And I will remember my bird feeder metaphor. If I start the novel, the big ideas will come.
Wish me luck.