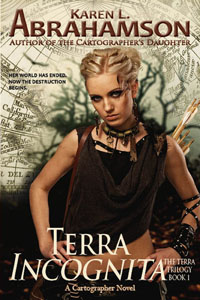 Terra Incognita is being promoted through BookBlast today (Here) and is available for $0.99 on Amazon through this weekend.
Here's the blurb:
Terra Vargas lives on an Earth shattered by climate change in a city threatened by fierce marauders—the deepee—who destroyed her family. When a young man, Ravi Sanghera, arrives with a destiny of his own—to rid the earth of the "Destroyer of World", Terra learns she inherited powers she neither understands nor wants—powers that might contain the secret to preserving or destroying the only home she knows.
Now Ravi faces a terrible choice, follow his vision and kill Terra… Or abandon the reason he traveled halfway around the shattered planet, and help her stop the deepee.
The answer lies in their future, but first they must survive.
Happy reading!