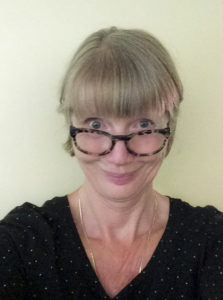 Born in Saskatchewan, Canada, Karen L. Abrahamson started her work life as a bookseller and then worked on passenger ferries, as a riding instructor, as a police officer, a correctional officer, a probation officer, and an ESL teacher, until finally running away and becoming a consultant to government and non-profit agencies. She recently ran away again to pursue her writing full time.
Karen currently writes four series. The well-regarded American Geological Survey (AGS) series starts with Afterburn (Twisted Root Publishing). It provides a new take on Urban Fantasy with agents of the ultra-secret AGS striving to protect America from foreign and domestic efforts to rewrite the nation.
The Aung and Yamin mystery series straddles mystery and fantasy as the puppet troupe singer, Aung, and his mischievous animate puppet compatriot, Yamin, solve mysteries involving the people and living spirits of 1820s Burma. The first book in the series, Death By Effigy (Guardbridge Press), was published in April 2017 with A Death in Passing  and A Death in Umber soon following thereafter.
Far from Burma, in the chilly modern-day remains of an alternate Russia, Detective Alexandre Kazakov delves into murders and other mayhem in a country caught between the warring empires of the Ottomans and China. After Yekaterina (Twisted Root Publishing) is the upcoming first book.
Back in our modern day world, retired school teacher Phoebe Clay embarked on a series of international adventures, starting in the chill waters of the Pacific Northwest in Through Dark Water (Twisted Root Publishing).
In addition to fantasy and mystery, she writes romantic suspense and paranormal romance, including the six book Unlocking series that begins with Unlocking Her Heart (Twisted Root Publishing.)
Karen and her various author personalities reside on the west coast of Canada where eagles, killer whales and two cats keep her company.