UNLOCKING HER GRACE
UNLOCKING HER GRACE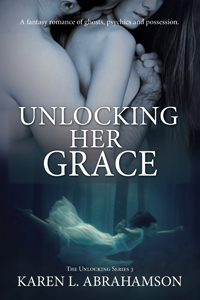 Ally McVay needs to reboot her life but only a second chance with Seamus can save her from supernatural evil in this steamy, suspense, paranormal romance.
About the Book
Ally McVay made a difference in the world. She devoted her life and her acclaimed photography to the international environmental charity she built in East Africa. But then everything went wrong and her showpiece environmental project now faces complete destruction.
With her life's work in ruins, her photography gone stale, and a non-existent love life, Ally returns to her old home town to sort herself out. Staying with friends who own a New Age jewelry store, she's determined to play the field rather than trust any one man. When a mysterious bracelet linked to love, the occult, spirit possession and murder comes into her possession, she laughs and puts it on. After all, things like that just don't happen.
Struggling musician Seamus O'Hearn broke Ally's heart thirteen years ago in Ireland. They were young, they were in love, and it scared the heck out of him. So he broke it off in the worst way possible. The breakup sent Ally running for Africa where she made her mark and it left Seamus kicking himself. He gave up his music for business school and began working for an international conglomerate, realizing too late that he'd played a role in ruining Ally's life work. He comes looking for Ally to make amends and undo the stupidest mistake he ever made.
This time, the Irishman's charm might be lost on Ally as she loses herself in the arms of another man. As Ally's friends investigate the dangers of the mysterious bracelet, Ally ignores their pleas to be careful. With evidence mounting that she's walking into a deathtrap, only Seamus can save her.
Fans of steamy sex scenes, suspense and the paranormal will enjoy this story of second chances overcoming the evil infiltrating a summer beach town.
Other Books in "The Unlocking (Peachland) Series"
Disclosure of Material Connection: Some of the links in the page above are "affiliate links." This means if you click on the link and purchase the item, I will receive an affiliate commission. I am disclosing this in accordance with the Federal Trade Commission's
16 CFR, Part 255
: "Guides Concerning the Use of Endorsements and Testimonials in Advertising."