UNLOCKING HER HISTORY
UNLOCKING HER HISTORY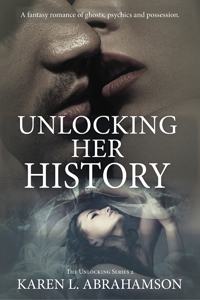 Visions. demon possession, and a mysterious bracelet overwhelm Chloe Main's tidy little life with supernatural danger in this steamy, paranormal romance.
About the Book
Chloe Main's life wasn't always so good. Once upon a time she lived on the street and did things she isn't proud of—until she escaped. Fast forward ten years and she has fantastic friends, a successful healing stones practice in a New Age jewelry store, and a beautiful condo that overlooks Okanagan Lake. Most people think she has everything, but Chloe Main remains wary of men. She uses her New Age practices to center herself—until she puts on a mysterious bracelet linked to love, murder and mayhem.
Detective Jasper Stone stormed into Chloe's life when someone or something tried to kidnap Chloe's friend. Now a string of robberies in Chloe's building have brought him back to her. A pragmatic realist, he has no tolerance for the occult or psychics or any other New Age hooey, but when his investigation puts him in closer contact with Chloe he feels an instant, electric attraction.
When visions and the mysterious bracelet overwhelm Chloe's tidy little life with serious supernatural danger, Jas must overcome his disbelief to save her from a ghostly danger that possesses men and that has stalked women almost from before time began.
Fans of steamy sex scenes, suspense and the paranormal will enjoy this story of evil infiltrating a summer beach town.
Other Books in "The Unlocking (Peachland) Series"
Disclosure of Material Connection: Some of the links in the page above are "affiliate links." This means if you click on the link and purchase the item, I will receive an affiliate commission. I am disclosing this in accordance with the Federal Trade Commission's
16 CFR, Part 255
: "Guides Concerning the Use of Endorsements and Testimonials in Advertising."